---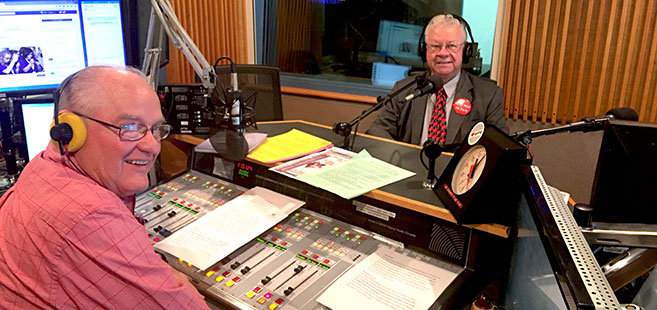 Professor Shakhashiri is a frequent guest of the Larry Meiller Show
on the Ideas Network of Wisconsin Public Radio.
---
The Larry Meiller Show included the following topics in response to questions from Larry and from callers
Larry began by asking about the cabinet appointments of president-elect Obama. Obama's nominee for Education Secretary, announced shortly before the show, is Chicago Superintendent of Schools Arne Duncan. Professor Shakhashiri said it's not surprising that Obama called on someone he knows and that Duncan has accomplished quite a lot in Chicago. Professor Shakhashiri noted that big city school districts are in trouble with issues like finances, the quality of teachers, the quality of facilities and the curriculum. Professor Shakhashiri said these problems need a fresh look and he's hopeful that the administration will provide it. Obama's choice for Secretary of Energy is Nobel laureate Steven Chu, who has been director of the Lawrence Berkeley Laboratory, where he focused on climate issues. Chu would be the first Nobel laureate to serve in the cabinet, and Professor Shakhashiri said he brings a lot of credibility to the job, though Professor Shakhashiri added that the job is not scientific but political. Professor Shakhashiri said Obama's entire list of appointees is promising, but he warned against expecting too much. The President and his Cabinet will face severe economic and human issues, and Professor Shakhashiri said concerned citizens should keep the pressure on elected officials to make progress on issues like climate change, education and health care, all of which have a basis in science. At the time the program was broadcast, Obama had not announced his choice of science advisor.


Larry asked if scientists can make good politicians. Professor Shakhashiri said one example is former British Prime Minister Margaret Thatcher, who has a PhD in chemistry. While she has many critics, Professor Shakhashiri said Thatcher was a strong leader, and he added that scientists bring sound judgment on scientific issues. Professor Shakhashiri said the entire Obama team is promising, but citizens should be realistic about their expectations.


A caller who identified himself as a scientist expressed concern about scientists as politicians because, he said, they don't have a real human touch. The caller described a graduate management class in which students were given the example of a troublesome employee. While other students proposed various solutions, he said the engineers in the class all said the employee should be fired. While the caller said he wants scientists in government, he also said, "I want politicians to have more of the human touch than the scientists I know." Professor Shakhashiri said scientists are caring people, though they don't always show it. Steven Chu is an accomplished researcher, he said, who also cares about issues as they effect society– otherwise he would not have taken the cabinet position, which will not advance his science career. Professor Shakhashiri said scientists are needed in government to bring sound judgment on science-related issues, but agreed that they also need to bring out human aspects of their work.


Larry asked about a new international study of science and math education which showed that, while students in the fourth and eighth grade in the U.S. still lag behind their counterparts in many countries, there has been some improvement in American math scores. Professor Shakhashiri said that while the U.S. doesn't need to be number one, such comparisons serve as a timely warning. President George H.W. Bush in 1989 set a goal of making the U.S. number one by 2000, but Professor Shakhashiri said he's not sure what being number one would mean. The question, he said, is whether students are being properly prepared for higher education and for work. Professor Shakhashiri called for improving education in all areas because education is the key to progress. While the trends are disturbing, Professor Shakhashiri said he would not trade the U.S. educational system for any other because it offers diversity and freedom. However, while diversity is good, Professor Shakhashiri called for national education standards, though he added that the federal government should not mandate them. He also called for leadership and involvement from students, parents, teachers and communities. For more about the Trends in International Mathematics and Science Study (TIMSS), please click here.


Larry asked about a new study from the National Research Council calling for a plan to assess the potential health and safety risks in the use of nanotechnology. Professor Shakhashiri said the warning is timely and, while science and technology are making great progress, everyone should be concerned about safety. Professor Shakhashiri said there are always misunderstandings about such reports, and the report was not issued to frighten people but to raise issues and provide a platform for discussion. He added that his colleagues are concerned about the issue and that everyone should be aware of potential consequences. For more about the NRC please click here.


A caller applauded the Obama appointments and said science is being restored to a place of honor. But the caller also worried about the cost of higher education, which is going up faster than inflation, and the affordability of higher education for ordinary people. Professor Shakhashiri said the caller raised an important point and that a hard look is needed at how we fund education–what fraction should come from governments at various levels and what percentage from the private sector, which invests heavily in higher education. Professor Shakhashiri said education is a business, the business of developing talent, and all citizens should have the opportunity to develop their talents to the fullest. Professor Shakhashiri noted that there are scholarships and grants in aid for needy students, part of the federal government's effort, but it remains to be seen how this will be affected by difficult economic times and budget problems at all levels of government.


A caller said he has two grandsons. One, in college, has decided to be a teacher, but he said the other, in high school, likes science but is getting conflicting advice on what field to go into. The caller said there are more opportunities today than in the past, but that makes the decision complicated, and he wondered where to turn for advice. Professor Shakhashiri urged the caller not to push the student to make decisions now, but rather let him learn about his options and enjoy learning. Professor Shakhashiri urged the caller to give the student books on various science topics (see "Recommended Reading" in this web site). He also noted that school counselors and teachers can give advice as well as parents and other family members. Professor Shakhashiri said the grade point average in various subjects is only one indicator of ability and inclination, and urged patience and the nurturing of curiosity.


Another caller had two concerns: He said seniors are no longer able to take courses for credit free of tuition at the University of Wisconsin-Madison, and said they should be able to. He also complained about the high cost of textbooks. Senior citizens can audit courses free of charge with the permission of the instructor, but they are not able to take courses for credit free of charge. Professor Shakhashiri said he agrees with the caller about the price of textbooks, which now cost university students an average of nearly $1000 a year. He said textbook publishers must be more accountable. While costs may be moderated somewhat by materials posted on web sites, Professor Shakhashiri doesn't want all learning shifted from the classroom to the internet.


A caller asked about reports that plastic bottles containing bisphenol A can leach harmful chemicals into the contents. The caller thought the problem only occurs when the plastic is subject to high temperature as in a microwave oven or when containing hot liquids. Professor Shakhashiri said the result depends on the type of plastic. He recommended a series of recent articles on the subject by the Milwaukee Journal-Sentinel, which are archived on the paper's web site. Professor Shakhashiri said he only refills plastic bottles once before recycling them because it's better to be safe. He did not recommend throwing all plastic bottles away, but said they should not be used repeatedly.


Larry noted that institutions in the U.S. awarded more than 48,000 doctoral degrees in 2007, an all-time high and the highest in the world. Professor Shakhashiri called the number a tribute to the quality of American higher education. Many of the new PhDs are not U.S. citizens, which Professor Shakhashiri said is another tribute to the quality of American higher education, but he would like to see more native-born Americans getting their doctorates. Achieving that, he said, would require starting with better education at the grade school level. He noted that there has been great advancement in the number of women getting graduate degrees, but said similar progress have not occurred among many minorities. For more information please click here.


Larry mentioned the telecast dates of the 39th annual ONCE UPON A CHRISTMAS CHEERY IN THE LAB OF SHAKHASHIRI

---
The Larry Meiller Show included the following topics in response to questions from Larry and from callers
Larry began by asking Professor Shakhashiri about the impact of the election two days earlier. Professor Shakhashiri said it will probably bring about a very important change in federal government policy on science research and education. He's pleased that so many citizens participated in the election, but said responsibility doesn't stop there, and urged people to contact their representatives about what they would like for science policy. There are many important questions in science policy: supporting basic research, promoting innovation in green products and restrictions on embryonic stem cell research, to name a few. Professor Shakhashiri invited members of the audience to contribute their ideas on what to tell Congressional representatives and the new President. Professor Shakhashiri said immigration is a related issue because of limits on the number of visas for foreign workers. The U.S. has relied heavily on developing talent, both homegrown and foreign, and the limit on foreign workers is affecting the well being of the country, he said. The U.S. is the most technologically developed country in history, he continued, and science research and education must take place for the benefit of society. Other important issues include energy policy, space exploration, protecting the environment, health policy, FDA regulations and developing international policies on pollution. Professor Shakhashiri said many issues should be addressed by all of us.


A caller said she has a five year old in Kindergarten who wants to be a scientist, and wanted to know what to do at home to encourage love of science. Professor Shakhashiri said what parents do is critical in supporting activities that promote learning and nurture curiosity. He urged the caller to create an atmosphere that emphasizes reading and asking questions, and invited the caller to explore this web site for activities like experiments you can do at home, which are selected for safety. He also invited the caller to communicate with us through this web site. We answer in a timely manner, he said, except that we do not do homework.


A caller identifying himself as an engineering recruiter said there's a lack of qualified American born engineers at a time when many engineering positions go unfilled. He urged the government to find creative ways to encourage young people to go into science and engineering. Professor Shakhashiri said producing scientists and engineers is essential, though producing a learned, science-literate society should also be a goal. He said science education does not occur only in the classroom but also at home and at many other venues including museums, zoos, botanical gardens, nature centers, libraries and the like. Professor Shakhashiri called for grass roots efforts to promote science education, and he also hopes that President-elect Barack Obama will elevate the post of science advisor to a cabinet position. He said no one knows what the right number of scientists and engineers is, but we need more, both home grown and from other countries.


Another caller said that both his parents were engineers and that he started in engineering in college but had to change majors because he had not gotten enough higher math in high school. Professor Shakhashiri said there are many steps toward teaching math in school such as advanced placement courses. Most states have academic standards and the National Council of Teachers of Mathematics has published standards, he said, and more math and science are needed in high school and earlier. Professor Shakhashiri urged empowering teachers to facilitate learning and fostering a societal environment which promotes learning in all areas, not just science and math.


Another caller said students are not being challenged enough in school. Professor Shakhashiri said students should feel comfortable in school but should also be challenged, because that creates a further desire for learning. But challenging curriculum can also be frustrating and Professor Shakhashiri said teachers and families as well as students should learn the proper ways of dealing with challenging material.


A caller said the new administration should apply the scientific method to government funding, with more money for basic research and requirements that government funded projects result in benefits to society. For example, he said any bailout of the auto industry should include a requirement that companies engage in research to produce vehicles that meet our needs. Professor Shakhashiri agreed that federal policies should provide incentives and accountability in the use of tax money. He said the government needs to develop a trust that precious tax dollars are not being wasted while at the same time allowing for calculated risks to promote innovation. He said all of us should communicate our concerns to elected officials.


An e-mail caller said her daughter is a sophomore at the UW-Madison majoring in biochemistry, but does not want to go into engineering, research or medical school. The caller asked what other options her daughter has. Professor Shakhashiri said it would be an excellent idea to continue on the biochemistry path. He noted that people go to college to find out what they want to do and shouldn't make decisions too early. He also noted that there are many kinds of jobs in the bio-technology area and that science opens doors to other professions–for example, there's a need for lawyers and journalists who have science training. He urged the daughter to talk with University advisors, professors and teaching assistants about career opportunities. Larry, who is a Professor of Life Science Communication in the College of Agriculture and Life Sciences, said the school has many double majors in science and communication.


Another caller said schools put too much stress on the mechanical part of learning in reading, for example, neglecting comprehension, and that there's too much reliance on computers at school and at home. Professor Shakhashiri said students must engage in thinking and discussion and not let the flame of curiosity be extinguished. He suggested holding family science nights once a month or once a semester and participating in public events like science nights and Science is Fun demonstrations (the next one is this Saturday at 2PM at Hilldale Mall in Madison, with most of the demonstrations performed by UW-Madison undergraduates). Professor Shakhashiri just got back from appearances in Georgia and in Singapore and says people everywhere have the same curiosity and the same questions.


Another caller berated Professor Shakhashiri for "elevating" science education at the expense of other areas. He said that English is fundamental to all other fields. Professor Shakhashiri said he's not promoting science above other fields and agreed that English is vital to other fields. You can't practice good science, he said, without both good oral and written communication skills, and he added that scientists should also be aware of ethical concerns. Professor Shakhashiri noted that science and technology are the engines that drive the economy, and said his efforts to promote science literacy are aimed as fostering an understanding and appreciation of science and its limitations. "I promote advancement of learning in all areas", he said.


Professor Shakhashiri mentioned the upcoming public lecture on Darwinism and Intelligent Design. Larry mentioned the 39th annual ONCE UPON A CHRISTMAS CHEERY IN THE LAB OF SHAKHASHIRI on December 6 and 7.
---
The Larry Meiller Show included the following topics in response to questions from Larry and from callers
Larry began by asking Professor Shakhashiri about two anniversaries. The next day (September 17) was the 51st anniversary of Professor Shakhashiri's arrival in the U.S. from his native Lebanon, and the 39th anniversary of his arrival at the University of Wisconsin-Madison. Professor Shakhashiri became a U.S. citizen in Madison and considers it his home town. Professor Shakhashiri does a lot of traveling and said that whenever he returns to the U.S. from a foreign country he gives thanks for being a citizen of the greatest society in history, though he added that it's not perfect. He said anniversaries are a time to reflect on the past and consider what we can do to improve the future.



Larry noted that many experts say the U.S. may be left behind in science and technology,. Professor Shakhashiri noted that science has no geographical boundaries. Science and technology drive the economy, he said, and are essential to the nations well being, so the nation must develop scientists and an appreciation of science in the general public. Professor Shakhashiri hopes the presidential debates will address the issues of science, and directed listeners to a web site in which both the Republican and Democratic

candidates for president respond to 14 questions

about science and technology. The questions include the issues of climate change, energy needs, alternative energy and science education.

A caller noted that the candidates have said little about science, even though scientists and journalists have been urging them to talk about science and technology. Professor Shakhashiri said it sometimes takes awhile for leaders to listen to the people. He does not endorse any particular answers to the science questions but says candidates should make their views known, and he wishes that candidates for office in every level of government would discuss the issues.



Larry noted that a Rand Corporation report says the U.S. is still pre-eminent in science, but that many observers such as history professor Roger Hollingsworth say the U.S. is slipping and losing its dominance. Professor Shakhashiri wondered what is meant by dominance. The U.S. has led the world, with contributions from many scientists who were foreign-born. But now many of the foreign born scientists and students have gone home, and many other countries now have excellent universities and are beginning to catch up.



Another caller noted that countries like India and China have many more people than the U.S. and wondered if they now produce more scientists and engineers. There are a number of reports on the production of scientists and engineers worldwide and he referred the caller to a study by the

National Science Foundation

. Other countries are catching up in scientific prowess, Professor Shakhashiri said, and that can be helpful in the long run. Global issues such as climate change effect everyone, he said, and we should support advances around the globe because humanity has an awesome responsibility to protect the planet and pollution knows no borders.

A caller said that Republican Vice Presidental candidate Sarah Palin has called for teaching creationism in schools, and said that flies in the face of scientific inquiry. The caller asked how scientists should deal with this. Professor Shakhashiri said he doesn't see any conflict between science and religion. They are different domains, he said, and conflict begins when one gets into the other's domain. All candidates should be part of this dialogue, he continued, and if personal beliefs enter in, the voters must make the final decision.



Another caller said he believes in evolution and that intelligent design (a form of creationism) is faith, not science. Professor Shakhashiri said intelligent design doesn't belong in science classes because it's not science. He also urged both sides to engage in respectful conversation, not necessarily respecting the viewpoints of others but respecting them as fellow human beings who are entitled to their opinions. Professor Shakhashiri said respect, from all sides, has been missing from the debate.



On another subject, a caller asked about natural oils in canned fish. Fish oil contains many essential nutrients, but fish are canned in water, and the caller wondered if that takes away the nutrients. Professor Shakhashiri said a nutritionist could better answer the question, but he noted that oil and water do not mix and he does not think canning destroys the nutrition.



A caller asked, Where in the U.S. Constitution does it say the federal government can appropriate funds for scientific research?" Professor Shakhashiri said the government does many things which are not mentioned in the Constitution and that the government regularly deals with issues of national security and well-being. He noted again that science and technology drive the economy and that advances benefit humankind (though they can also do bad things.)



The caller asserted that most scientific and technological developments have come from the free market and that the U.S. is supposed to have limited government. The caller further claimed that Professor Shakhashiri was defending a world in which he gets government grants. Professor Shakhashiri said most scientists do not depend on grants but pursue questions that interest them, and that scientists receive both government and private support. Professor Shakhashiri said he's a strong advocate of the free market and that the U.S. is pre-eminent because it has freedom. He noted that many corporations do basic research, though they get tax write-offs which are a form of government support.



A caller said he was taught in school that science exists to protect natural resources and wild spaces, but that we are destroying the planet, with science and technology giving us the means to destroy at our convenience. The caller asked, how can we limit consumption? Professor Shakhashiri said science and technology are value neutral–people can use them for our benefit or destruction. During the industrial revolution, science found oil as a source of energy, and our lives now depend on it. But we now know that it produces greenhouse gasses which have adverse effects. Science gives us knowledge, he said, but it's up to all of us to use it wisely. Technology led to the invention of the gun, he continued. You can't un-invent the gun, but you can decide when to use it and when not to use it.



Another caller said he is scared that technology creates an illusion that we will be fine as long as technology advances. Professor Shakhashiri said everyone should think about their role as custodians of the planet. We know more now about the world, he said, and should be smart about how we use technology to benefit everyone.

The Larry Meiller Show included the following topics in response to questions from Larry and from callers
Professor Shakhashiri began by talking about fireworks. With the Fourth of July coming up, there will be hundreds of fireworks displays in the U.S. including a big display called Rhythm and Booms in Madison on June 28. Many chemical transformations take place in a burst of fireworks, and Professor Shakhashiri said putting together a fireworks show is an art as well as a science. Fireworks provide displays of color and sound (and also smoke, though it is not very visible after dark). Three types of energy are created, light, sound and heat, though the heat is not detectable from the ground. The loud noises are the result of the very rapid release of energy into the air at speeds faster than the speed of sound, so that the result is a sonic boom similar to that created by a aircraft flying faster than sound.


The colors of fireworks come from metallic salts. The atoms of metals take on energy and then immediately start giving it off in the form of light. Each element has a characteristic color. Fireworks are made very carefully, by hand, and are ignited by time delay fuses. Professor Shakhashiri said making fireworks displays is a dangerous and exacting profession. He urged everyone to obey safety rules and let the professionals make the displays. Fireworks are classified as both low and high level explosives. The initial lift comes from a low level explosive, while the air bursts are high level explosives. A more complete explanation of fireworks is available on this web site.


Professor Shakhashiri also noted that the Wisconsin State Journal newspaper in the edition of June 27, 2008, will have an article about fireworks on which he served as a consultant. The Wisconsin State Journal's web site also has in interactive feature about fireworks which he urged listeners to view.


Professor Shakhashiri also urged listeners to remember what the Fourth of July celebration is all about, Independence Day. He distributes to his classes a pamphlet printed by the University of Wisconsin-Madison called "American Trilogy", which contains the Declaration of Independence, the Constitution and the Bill of Rights (the bill of Rights is part of the Constitution but is highlighted separately). Professor Shakhashiri said the celebration is about the freedom and the great heritage and traditions Americans enjoy. Professor Shakhashiri is very excited about Independence Day this year because he is celebrating the 50th anniversary of his arrival in the United States from his native Lebanon and is grateful to be a US citizen
.
Larry asked about a new report from the Rand Corporation which says the United States still leads the world in science and technology. This seems to contradict other reports and studies which say the U.S. is at risk of losing its lead. Professor Shakhashiri said the reports are not necessarily contradictory, though the Rand report challenges the prevailing belief that advances in the rest of the world put the leadership of the U.S. at risk. Professor Shakhashiri noted that science and technology have no geographic boundaries, and the Rand report says the nation must put together an effective national policy designed to serve everyone. The America Competes Act, passed by Congress and signed by the President, says other countries are catching up and casts doubt about the ability of the U.S. to compete economically since science and technology drive the economy. The Act calls for a summit conference which will be held in August at Oak Ridge National Laboratory to analyze the status, progress and challenges facing the U.S. and to develop policies to keep the nation competitive and promote the use of science and technology.


A caller, who has watched Rhythm and Booms from a distance and noted the large amounts of smoke created by the display, wondered whether the smoke is toxic and contains heavy metals.
Professor Shakhashiri said the amount of metal salts in fireworks is relatively small. While it might be hazardous to be directly underneath fireworks, and breathing the smoke would not be a good idea, the crowds are always separated from the fireworks, and the smoke disperses. He said the amounts used are not dangerous, though people should be aware of the potential hazard. The National Fire Protection Association enforces stringent safety regulations for large fireworks displays. Spectators must be kept at least 840 feet from the launch area (that's based on the height and burst diameter of the largest shells). Shells may not be launched if winds are stronger than 20 miles per hour, because they could be blown off course. Nevertheless, many accidents occur with unregulated, informal neighborhood displays, when spectators attracted to the activities stand dangerously close to the launch area.


A caller asked whether the amount of heat released by the combustion of fossil fuels is a significant factor in contributing to global warming. Professor Shakhashiri said the amount of heat produced is relatively insignificant compared to the greenhouse effect of the carbon dioxide gas produced by combustion, which traps solar heat after it hits the Earth.


A caller identifying himself as a member of Sustain Jefferson, an environmental group in Jefferson County Wisconsin, asked about the use of a stove to produce gases from solid fuels, specifically hydrogen and carbon monoxide gases, which are then burned in an internal combustion engine. Professor Shakhashiri first warned the caller and the audience that carbon monoxide is highly poisonous. The production of syngas–synthetic gases–has been used for a long time as an industrial process, and Professor Shakhashiri has handout on the subject prepared for his chemistry classes. Here is a link with useful information.


Another caller noted that many fireworks displays take place over water, providing an additional safety measure, but wondered if the chemicals fall into the water and pollute it. Professor Shakhashiri said the salts that fall into the water are substances like potassium chloride and sodium chloride (table salt) and are produced in relatively small amounts. The Rhythm and Booms display is over the North side of Lake Mendota in Madison, and Professor Shakhashiri said it's doubtful if any increase in the amount of salts could be detected after the fireworks display, He noted that the use of salt on roads in winter in Madison and surrounding areas results in far more salt entering the lake than the fireworks could contribute.


Professor Shakhashiri added another note caution. Many animals are very frightened by the noise of fireworks and he urged people to leave their pets at home when they go to fireworks. Larry added that friends of his took their dog to a fireworks display and, even though they were far from the display, the dog ran off.


A caller asked about the pollution created by warfare in Iraq, both the explosions of weapons and the pollution caused by aircraft. Professor Shakhashiri said there's no doubt that weapons explosions contribute to air pollution on a much larger scale than fireworks, which are relatively limited in scope. Other factors such as air temperature and wind also have an effect on the amount of pollution, but Professor Shakhashiri said nations should think about the proper use of science and technology.


Another caller said that in a burst of fireworks, all of the streamers seem to be coming toward him, even though the burst is three dimensional. He asked if this is an optical illusion. Professor Shakhashiri said he and colleagues are now working on another volume of chemical experiments focusing on the properties of light, and human perceptions of light, which are often different from the light itself. When an aerial firework explodes, its component stars fly off in all directions. However, when viewed from a distance, these aerial fireworks seem flat, as though they were displayed on a screen. We do not easily perceive that some parts are coming toward us, while others are moving away. We have a hard time seeing this, because we don't perceive the normal clues that tell us the direction in which something is moving. Normally, when an object moves toward us, it appears to grow larger, and when it moves away, it appears to grow smaller. However, the stars in fireworks are so bright against a dark background, that we can't get an accurate impression of what size they are; their intensity saturates our retinas. We can't tell if they are getting larger or smaller, so we judge them not to be moving either away from us or toward us. Therefore, they look flat. If, however, we could see them from directly below, we would observe that the stars move in all directions away from the central explosion.


When watching fireworks, we see them much sooner than we hear them. That happens because light travels about a million times as fast as sound. The speed of light is 300,000,000 meters per second, but the speed of sound is only about 340 meters per second. If you are watching fireworks that are about a kilometer (1000 meters) away, the light takes only 3 millionths of a second to reach you. The sound takes about 3 seconds. You can tell how many kilometers away fireworks are exploding by starting to count seconds as soon as you see an explosion. Stop counting when you hear the explosion and divide the count by 3. This gives the distance away in kilometers.


Another caller, identifying himself as an amateur with a license to make fireworks, said fireworks makers rarely use sodium chloride because it's hygroscopic, readily absorbing moisture from the air, and fireworks with sodium chloride can't be stored for any length of time. He also noted that some of the sparkling effects of fireworks come from charcoal produced by the explosions. The chief source of yellow color in fireworks is sodium and Professor Shakhashiri wondered how the fireworks makers can created a yellow color without sodium. The caller said some use other substances like ultramarine and shellac, but that they are expensive and some makers avoid yellow. Professor Shakhashiri noted that the web site has a table listing the colors produced by different substances.


Another caller asked whether burning a pound of gasoline would produce more than a pound of carbon dioxide, since CO2 is produced by adding oxygen from the atmosphere to the carbon in the fuel. He reasoned that oxygen is heavier than the hydrogen it would replace. Professor Shakhashiri said it would not. The response on the radio was wrong. In fact, the weight of carbon dioxide would exceed the weight of the hydrocarbon burned. If the gasoline were entirely octane, for example, with eight carbon atoms, it would produce eight molecules of CO2 when burned completely. This would create a weight of carbon dioxide three times the weight of octane burned. The caller was correct!


Finally, Professor Shakhashiri noted that people who experiment with fireworks should know exactly what they are doing before proceeding with any manufacture or use of explosives.

---
The Larry Meiller Show included the following topics in response to questions from Larry and from callers
Larry began by noting the 25th anniversary of the report by a blue ribbon U.S. government panel, "A Nation at Risk" (click here or here for more information). The report, released on April 25, 1983, was highly controversial and called attention to many shortcomings of the U.S. education system. Professor Shakhashiri said the nation is still at risk. He called the report a clarion call by the Secretary of Education pointing out important education issues. He said the report resulted in a lot more serious attention paid to education, in particular science and math education, and greater vigilance toward course offerings and how knowledge is communicated to students. Professor Shakhashiri said the report should have been called "People at Risk", since there is a very big gap between those who are science literate and those who are not, an issue that goes far beyond national geographic boundaries. Professor Shakhashiri added that, despite its flaws, the U.S. has the best education system in the world because it is decentralized. There are approximately 16,000 school districts and 3500 colleges and universities in the U.S., and each can do its own thing. While national and state educational standards have been drawn up, each entity can still experiment and tailor its offerings to suit local conditions. Professor Shakhashiri said there's a lot of room for improvement in the U.S. education system. For example, he said we don't support teachers as well as we should, and anniversaries are a time for reflection, to consider what we must and ought to do in the future.



A caller said it's time to review how science is used, specifically mentioning pesticides and plastics as problematic chemicals. Professor Shakhashiri agreed that we must all be responsible for how chemicals are used and their effect on health and the environment. Science literacy is not just about advancing knowledge of science and technology, but also examining how we use it, he said, and we should all be aware of our role as custodians of the environment.



A caller said "intelligent design" as an alternative to the theory of evolution is not science. The caller said a scientific theory is testable and yields new information, while "intelligent design" is a literature search looking for flaws in evolution. He said "intelligent design" is not testable by observation or experiment, is not correctable, yields no new information and does not belong in the science classroom. Professor Shakhashiri agreed that "intelligent design" is not science as portrayed in a just released movie and he also noted that the New York Times for the day of the broadcast, April 29, carried an interview with Professor Francisco Ayala, a former priest who is a professor of evolutionary science and philosophy and who has written extensively about evolution and its enemies. For more information about evolution and creationism click on the icon on the upper right of our home page scifun.org. Professor Shakhashiri said we should be respectful of people's rights to have their own beliefs without necessarily agreeing with them. He said we should always be vigilant about what people pass off as science.



A caller asked about experiments to turn coal into gasoline. Actually, a process for making liquid fuel from coal is not experimental-it's been known for decades. But, it's an expensive, energy-intensive process that produces pollution and does nothing to reduce greenhouse gasses. Coal, gasoline and other fossil fuels are hydrocarbons, containing both carbon and hydrogen. Burning any carbon-containing fuel creates carbon dioxide, the main greenhouse gas contributing to global warming.



A caller said students, and future teachers, don't get as much science training as they should, and recommended other programs such as those offered in every county by University of Wisconsin-Extension and 4H. He said a program in Sauk County, for example, the Youth Environmental Project, offers hands-on field work. Professor Shakhashiri said such programs are great, but should not be a substitute for quality math and science in school. Professor Shakhashiri is concerned about the elimination of lab work by many schools in many sciences, primarily to save money. He said sciences are experimental fields and students need hands-on, minds-on training. Science is all around us, he said, and how we learn about it effects our quality of life.



Another caller asked what is a greenhouse gas, what is global warming and why is it bad? Professor Shakhashiri said the greenhouse effect is what we see in a car parked in the sun. It gets much hotter in the car than the air outside, because the car traps heat, just like a greenhouse and certain chemicals in the atmosphere. The chief greenhouse gasses are carbon dioxide, methane, nitrous oxide and water vapor, which trap heat which would otherwise be radiated away from the Earth. Carbon dioxide made by burning fossil fuels (hydrocarbons) is contributing to global warming. The consequences include rising sea levels, more intense storms and changes in ecosystems as plants and animals deal with new environments. For more information click here.



The next caller said some of his friends insist that global warming is a hoax, claiming that some scientists are on one side of the debate and some on the other. Professor Shakhashiri said while there are some skeptics, and that's OK, the vast majority of scientists say that global warming is under way and that human activity is causing it. He said there's no doubt that global warming is real and that nearly everything we do effects the environment. For example, the internet is responsible for three to three and a half per cent of electricity use in the U.S. In answer to another caller, Professor Shakhashiri said the internet is widely used and requires energy. He added that there's no way to un-invent the internet, and that all advances come with a cost. Larry suggested that the internet might have a net effect of reducing energy consumption by reducing travel.



Larry asked about the controversy over the chemical bisphenol A, which is widely used in the manufacture of plastics. Findings that the chemical can leach out of the plastic and be ingested by people, with adverse effects, has caused Canada to ban the substance and in the U.S., the EPA is investigating it. Of special concern if the use of bisphenol A in baby bottles, but it is also used in most water bottles. Professor Shakhashiri said the public should not be totally alarmed-he urged letting regulatory agencies investigate. He also commended the Milwaukee Journal-Sentinel for a series of reports on bisphenol A, and added that if it is truly harmful, it should be removed from the market. For trade web site on bisphenol A click here.



A caller said American students get too much time off and that school should continue through the summer, adding that the European system is better. Professor Shakhashiri repeated his opinion that the U.S. education system is superior to any other because of freedom of choice. The current 180 day school year has its roots in the agrarian society of the 19th century when children were needed in summer to do farm work. Professor Shakhashiri said that all citizens should take responsibility in exercising our freedom of choice and consider alternatives. There are other questions such as, what would be done with the additional school days? He said we should examine why the UW-Madison has two 16 week semesters plus a shorter summer school, while some other schools have a system with three semesters or four quarters.
---
The Larry Meiller Show included the following topics in response to questions from Jim Packard, substituting for Larry, and from callers
Jim asked about the first day of Spring (even though Madison was about to get more snow, on top of an already record-setting snowfall for the season). Professor Shakhashiri said people look forward to more daylight. The vernal equinox means equal amounts of daylight and darkness. But he said there are many myths concerning the equinox. One is that on the equinox, you can make an egg stand on end. Professor Shakhashiri brought some eggs and he and Jim tried to stand them on end. They couldn't. Professor Shakhashiri urged listeners to do their own experiments to see if they make an egg stand on end. He said it is a myth that it can be done only on the vernal equinox. Another myth, he said, is that a raw egg can be spun on its side. A good way to tell the difference between a raw egg and a hard boiled egg is to spin them. The hard boiled egg spins well, while the fluid in a raw egg dampens its spin. Professor Shakhashiri and Jim spun eggs, determined whether they were raw or hard boiled, then checked their results by cracking them open.

Professor Shakhashiri said everyone harbors misconceptions. Twenty years ago a survey conducted at graduation ceremonies for Harvard University found that a large majority of the graduates, faculty and family members could not explain the reason for the four seasons. Some thought the Earth moves closer to the sun in the summer. Professor Shakhashiri said more recent surveys show improvement in this aspect of science literacy, but there is still a long way to go. He said the reason for the seasons is the tilt of the Earth's axis–in the Southern hemisphere, March 20 marked the arrival of Fall. He added that another good question is what caused the tilt of the Earth's axis.

A caller insisted that he had balanced an egg on end many times on the first day of Spring, but added that it has to be done at noon, which he said would be 1PM Central Daylight Saving Time, and said it's not a myth. But Spring officially began at 12:50 am, and Jim asked why the egg would balance only at noon. The caller insisted that it does. Professor Shakhashiri urged everyone to try it.

Another caller said egg balancing works only at the equator, and that she had seen it done on the equator on the first day of Spring and had photos to prove it. Professor Shakhashiri said the Internet is full of such pictures, and asked what would be a plausible explanation for any egg balancing. He urged listeners to try it and report their results on this web site.

Another caller reported trying to balance eggs and said it works only at the Spring equinox, not at the Fall equinox. Professor Shakhashiri said this is why he brought it up, so people would do the experiment and come up with their own explanations. He called it a recreational activity that makes people think about their own beliefs and think about different explanations. The shell on most bird eggs is not completely smooth; it has small bumps and lumps. When these rough spots are in just the right place, they can help to stabilize the egg when it is placed on its end. So, with care, it is possible to stand an egg on its end. The myth is that it can only be done on the vernal equinox.

Another caller asked what the effect will be on industry of oil at $100 a barrel or more. Professor Shakhashiri said it will have a very large effect, not only on the cost of fuel but because most plastics are made from petroleum feed stock, so it will effect the entire economy. The cost of many types of plastic will go up, and he predicted that industry would look to coal, which the U.S. has in abundance, as an alternative feed stock. But he pointed out that coal mining is dangerous and environmentally destructive. High oil prices are also making coal gasification for fuel more attractive. In a process that's been known for decades, coal is heated to produce carbon monoxide and hydrogen gas, a product known as syngas, which can then be converted to products like ammonia (used for fertilizer) and methanol (for motor fuel). Professor Shakhashiri noted that China is building a new coal-fired electric power plant every week and urged all countries to exercise good judgment by considering the consequences of actions.

A caller asked how to get information about sustainable crops for biofuels. Jim said that Wisconsin Public Radio had a program on that subject. On that program, Jim Packard talks with two researchers about the move to a bioeconomy. They are UW-Madison Professor of Bacteriology Tim Donohue, and Michigan State University Professor of Crop and Soil Sciences Phil Robertson. Both are involved with the Great Lakes Bioenergy Research Center. Click here to listen to that program.

Another caller asked whether snow evaporates more from the top or whether it melts more from the bottom. Professor Shakhashiri noted that snow piles shrink even when the air temperature does not rise above freezing (as long as no new snow is added). Part of the answer is sublimation. Water ice not only melts, it also undergoes a process scientists call sublimation, when some of it changes directly from solid to gas without going through the liquid phase. Frozen carbon dioxide sublimates, going directly from solid to gas, which is why it is often called "dry ice"–no liquid is formed. Other examples of sublimation are air fresheners, which contain solids that sublimate, and frost free refrigerators, which circulate air to sublimate ice buildup.

A caller asked why the rotation of the moon is identical to its orbit around the Earth, so that the same side of the moon always faces the Earth. An explanation is given here on the Web.

A caller reported an unexplained increase in the temperature of cooking oil when piece of fish, at room temperature, is added. The caller said a temperature probe would show a temperature of 250 degrees, and upon adding the fish, the temperature would shoot up to 350. The caller reported stirring the oil before adding the fish. This turns out to be a common occurrence as the oil in the pan is not uniformly heated. The oil is viscous, and the temperature can vary quite a lot from one spot to another. A quick stir is not enough to even out the temperature. However, when damp fish is dropped into the oil, the water on the fish vaporizes and bubbles up, and this bubbling effectively stirs the oil. This stirring mixes the hotter oil with the cooler oil, and the thermometer registers a temperature change.



Another caller wondered whether, in a turning shaft of solid metal, there would be something at dead center of that shaft that was not turning. The caller described rotation by referring to one side of the shaft (as viewed from the end) as going up and one side going down. Another caller explained that the entire shaft was rotating in the same direction, and that a point on its surface would be going in a circle, not up or down, and that the molecules at the center would also be spinning in the same direction. In an e-mail message sent after the show Dr. Margaret C. Turnbull explained: "The atoms exactly at the middle of the shaft are still rotating, but they are 'stationary' in that they are not traveling around the axis of rotation like the rest of the material further out from the center. The center of the shaft is spinning in place while the rest of the shaft is circumscribing circles around that center. The same is true at the north pole of the earth, which (ignoring the earth's revolution around the sun) is spinning, but not translating."
---
The Larry Meiller Show included the following topics in response to questions from Larry and from callers
Larry began by asking Professor Shakhashiri if there should be a debate between the presidential candidates on the subject of science and technology. Several organizations, including the National Academy of Science and SCIENCE Magazine have called for such a debate, which would be the first of its kind. Professor Shakhashiri said such a debate would be a good idea because science and technology are the engines that drive the economy and have serious impacts on all aspects of society. He emphasized that it would not be a debate on the content of science, testing the candidates' knowledge, but on the application and use of science and technology. Professor Shakhashiri said a debate would call attention to the significance of science in our daily lives on many themes including health care, energy, the environment, homeland security, education and international competitiveness. He urged candidates to tell voters where they stand and where they might take us, bringing the discussion to a wider audience. He asked listeners for their ideas on what topics should be discussed.

Professor Shakhashiri mentioned an example of a question that might be asked: Do you think presidential appointees should be subject to a litmus test on issues like embryonic stem cell research, a carbon tax, mining safety, FDA regulations, and regulation of genetically modified foods?

The first caller said candidates should be asked for their views on monopolies on technology such as computer operating systems and digital broadcasting, where a few companies control access. Professor Shakhashiri said that's an important issue–the federal role in technology transfer, bringing new developments to market and who controls them--something all elected officials should be thinking about.

Another caller said a big problem is what the media does with the candidates' answers and complained that the answers might be complicated and legalistic. Professor Shakhashiri said any debate must be understood by all of us and said he's been disappointed by many statements by public officials which don't show any respect for the intelligence of the American public. "Some political statements show they think we're dumb," he complained. The answers should be in plain talk, he said, and if they don't know the answer, they should say so. "That's what we do in science," he continued, "we have more questions than answers."

A caller asked if there are processes to take carbon out of the atmosphere and sell it and whether there's research on sequestration of carbon from burning fossil fuels (carbon dioxide is the main greenhouse gas contributing to global warming). An interesting approach was just reported in the New York Times.

Professor Shakhashiri said there's a lot of research going on concerning removing carbon from smokestack emissions but that economics are the problem, not only the cost in money but the amount of energy required to remove the carbon. Carbon and oxygen are bonded very strongly in CO2 and it takes a lot of energy to break the bond. There are ways to do it, but the question is whether it can be economically feasible. Another question is what to do with the carbon if it's removed, he continued. If it's burned again, that would create more CO2. Just because something can be done, Professor Shakhashiri continued, doesn't mean it's wise to do it because there can be many considerations to take into account.

Another caller asked about the use of platinum as a catalyst to remove carbon from emissions, and also asked how long it will take before hydrogen fuel cells replace fossil fuels. Professor Shakhashiri said many metals can be used as catalysts and there's a lot of research going on toward sequestration of carbon from emissions. Concerning hydrogen fuel cells, Professor Shakhashiri said he has no crystal ball concerning the timeline. There's a lot of research going on to make the hydrogen economy feasible, but patience and persistence are needed in supporting the research, see http://www.nrel.gov/hydrogen/. Once question is economic viability and, he added, there's also a safety issue. Hydrogen is explosive.

Larry asked about a new report on science and engineering indicators from the National Science Board, the overseer of the National Science Foundation. The board is required by law to make a report every two years to the President and Congress on the status of science and technology. Among other things, the board reports on the effect of federal support for scientific research and its impact on the economy, globalization and international affairs.

Professor Shakhashiri said it's a useful document, and he always looks at the chapter on public attitudes and understanding of science and technology. That report is based on extensive surveys. For example, surveys show that more Americans say television is their greatest source of science and technology information, leading all other sources, and that the internet is now the second leading source. Professor Shakhashiri said when he first appeared on Larry's show 20 years ago, there was no internet, and he warned that while the internet has a lot of information, not all of it is valuable. He said it's intriguing and challenging to think about what might be sources of information 20 years from now.

The surveys show that the public's respect for scientists is very high, but that public knowledge of science has not changed much over the years, and Professor Shakhashiri says it could be a lot better. For example, only one in ten Americans consider themselves very familiar with biotechnology. 60 per cent of those surveyed believe they have not eaten genetically modified foods, but in reality almost all processed foods contain some genetically modified material.

Another caller asked the classic question, "Paper or plastic?", and wondered if plastics which are claimed to be biodegradable really are. Professor Shakhashiri said there are many kinds of plastic on the market, most of them made from petroleum, and that consumers should read labels carefully and be clear about what they want to do. Consumers should think about the disposal of many products, he said, asking whether products really get recycled and what's the cost of recycling. The caller specifically asked about polypropylene, and Professor Shakhashiri said he doesn't think that it's biodegradable.

Another caller asked whether plastic bottles can be dangerous when chemicals leach from them into the liquid they contain. Professor Shakhashiri again noted that there are many types of plastic and that they contain a whole slew of chemicals. He commended the Milwaukee Journal and other publications for extensive coverage of the issue. He noted that there might be a special problem with baby bottles as they may contain bisphenol A and are reused repeatedly. He said some bottles are made overseas and should be subject to the same controls as those made in the U.S. Professor Shakhashiri said harder plastics, like polycarbonate and HDPE (high density polyethylene), have very little leaching. Larry said he is planning a future show with a leading researcher on this subject.

A caller asked about the use of technology developed by research paid for by public funds, noting that the Wisconsin Alumni Research Foundation (WARF) is suing Intel over alleged patent violations. The caller said that might have a chilling effect on putting technology to use, while also saying that private companies shouldn't be able to simply take technology for nothing. Professor Shakhashiri said that when a University researcher comes up with a new invention, any money earned is shared by WARF, which in turn uses the money to fund many research projects. He noted that patent holders have to be careful about infringements. It's part of the legal system, and if they don't defend their patents, they lose them. In a broader sense, Professor Shakhashiri said discoveries made with public money should be made public through open access, rather than being held as proprietary information or published only in journals which the public must pay to access. He noted that the National Institutes of Health requires, by law, that grantees make their findings available on the web after a short period of time. Professor Shakhashiri said he's for open access (with the exception of classified research) and that this would be a good question for the presidential debate.

Another caller, who identified himself as a former employee of the Jet Propulsion Lab, which launches unmanned spacecraft, said unmanned spacecraft have collected a lot more useful data than manned spacecraft and at far less cost. He said he's not against manned expeditions, but complained that the space shuttle gets all the glory while collecting a lot less information. Professor Shakhashiri said this is another good question for a presidential debate. President Bush has promised a manned expedition to Mars in the future, but Professor Shakhashiri said that would be very costly. He said, "I'm not running, but I favor unmanned exploration, and we need an open discussion of the issue."
---
The Larry Meiller Show included the following topics in response to questions from Larry and from callers
Professor Shakhashiri began by talking about two books he got for Christmas, Musicophilia, by neurologist Oliver Sacks and The Omnivore's Dilemma by Michael Pollan. Professor Shakhashiri said as we begin a new year it's important for all of us to think about the role of science and technology in our daily lives and to take responsibility for our actions. With oil now at $100 per barrel, he urged listeners to think about three chemicals, all greenhouse gases: natural gas (which is mostly methane, a greenhouse gas), carbon dioxide and water vapor, the most dominant greenhouse gas. Even the huge supplies of water in the Great Lakes are at risk and Professor Shakhashiri said water supplies worldwide are in danger.

A caller asked how using resources contributes to global warming and whether alternatives should be considered. Professor Shakhashiri said while fossil fuels are here to stay and can't be entirely replaced in the short term, alternatives are needed that are economically viable and good for the environment. Every time we burn a fuel containing carbon, that produces carbon dioxide which acts as a greenhouse, trapping the sun's heat in the atmosphere. The rate of increase in carbon dioxide in the atmosphere is so high that we should be alarmed and concerned about our fossil fuel use, he said.

A caller identifying herself as a kindergarten teacher said math and science are not taught well enough in lower grades. Professor Shakhashiri advised anyone concerned with the quality of math and science teaching to consult their state standards on teaching math and science and then communicate to schools their concerns about implementation of the standards. While the standards are not perfect, he said they provide a starting point for a discussion. The most important element in teaching, Professor Shakhashiri said, is qualified teachers who can nurture young minds with a healthy approach to learning.

Larry noted that Exxon-Mobil has committed $125 million to improve science and education teaching through the national "U Teach" program. The program, to recruit and train teachers, was started ten years ago at the University of Texas and Exxon-Mobil has committed to expanding it nationally. Professor Shakhashiri said he's not an apologist for industry, but such actions can demonstrate the utility of support for education from industry, and in the past such efforts have led to more state and federal government support for education. He noted that the program is not available in the Midwest as yet, but hopes the region will become eligible. For more information about "U Teach" click here
A caller asked what is the difference between a theory and what we know as fact. Professor Shakhashiri said we make observations, collect and validate them, and then propose a theory to explain them. A theory is valid until disproven. Then a new or modified theory is needed, and this is how progress is made. In science, a theory is not just any idea, but is based on observation and must be disprovable.

Another caller asked whether there's a shortage is scientists and, if so, why are there so many post-doctoral students who can't find jobs? Professor Shakhashiri said those who assert that there's a shortage usually have a number in mind for how many scientists are needed, and added that he has no such number. Many reports say the U.S. is falling behind and doesn't have enough native-born citizens going into math and science, and there are government programs to remedy the situation. Professor Shakhashiri said the unemployed post-docs may be a placement issue and that it's wrong to encourage study in an area that doesn't lead to good jobs. However, he also said that better educated people have a better chance to get good jobs not only in the field they are trained for but in other fields as well. Professor Shakhashiri added that the public has a shortage of understanding of science and that scientists should not only advance knowledge but explain science to the public.

Another caller asked about the difference between theory and fact and also asked about developments concerning ethanol. Professor Shakhashiri said a fact would be that table salt, sodium chloride, is a white solid that's soluble in water and, when in solution, conducts electrical current. The theory to explain the conductivity says that the solution of sodium chloride has ions, charged particles, which conduct electricity. Concerning ethanol, Professor Shakhashiri said it can be an alternate source of energy, but it contains carbon, and burning it contributes to carbon dioxide in the atmosphere and to global warming. Larry noted that growing plants to make ethanol takes carbon dioxide out to the atmosphere, making it carbon-neutral. Professor Shakhashiri said photosynthesis converts carbon dioxide and water into sugars and oxygen, but people have cut down forests and at the some increased burning fossil fuels so there is a net increase in the amount of carbon dioxide.

A caller asked about a recent article in the Smithsonian Magazine discussing serious environmental pollution issues for the Ganges River which is sacred to Hindus. Professor Shakhashiri said that education is key to progress and that people should understand and respect cultural and religious beliefs to successfully deal with such issues.

Another caller asked about the definition of a theory, saying that he calls the theory of evolution a principle, and wondering how it could become a law. Professor Shakhashiri said that while labels can be important, we shouldn't get hung up on them. The goal should be to understand the theory and how it got put together. Evolution, for example, is based on many observations from many branches of science. Professor Shakhashiri added that in all discussions where a theory seems to conflict with a religious belief, respect for the other person is often missing. For information about the latest publication from the National Academy of Sciences on science, evolution, and creationism click here .

A caller asked about a book called Endgame, in which the author says cities can never be sustainable and must import resources. Professor Shakhashiri said he doesn't agree that there's no such thing as sustainable development, but he's willing to look at the book. He added that we can do things in a more environmentally friendly way.
---
Click for information about recent shows
---