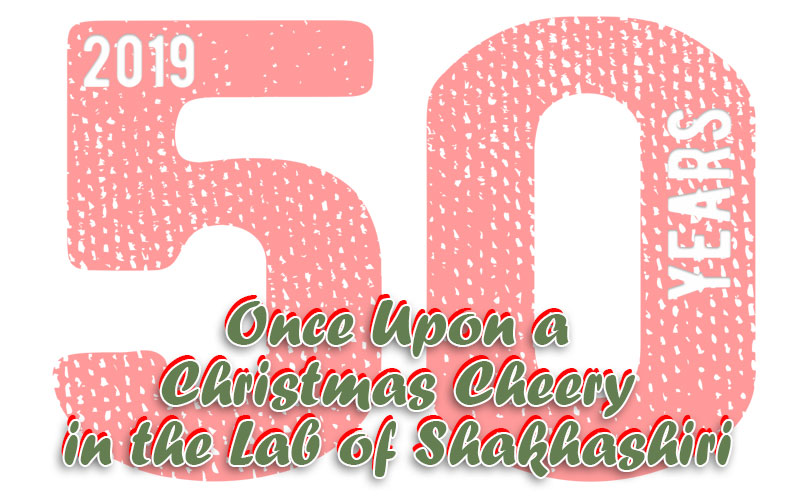 On the occasion of this 50th Anniversary, I welcome your support
for my research and public engagement programs.
Gifts can be made online by clicking here
or by mail to:
Shakhashiri Science Education Fund
UW Foundation
US Bank Lockbox 78807
Milwaukee, WI 53278


Bassam had four special lab assistants this year: toy soldiers!
Dorothy, with her friend the Tin Man, did a rainbow experiment.
Dorothy performs
Somewhere Over the Rainbow.
The Tin Man got his heart!
Bucky visited the lab to do an experiment with lead.
The luminol spiral glows in the dark.
Dr. Rodney Schreiner changed this 50 copper token to silver to gold.
Santa learned to make beautiful silver holiday ornaments.
Mike Leckrone, Science is Fun band director, joins Bassam.
The grand finale!
Bassam is joined onstage by daughter Elizabeth and granddaughter Violet.
A red and white balloon drop marked the end of this special 50th anniversary show.
Bassam with PBS Wisconsin Director Deb Piper and the anniversary show's Theatrical Director Brian Cowing.
Bassam with Rita Haddad, Gilbert Haddad, and Myrna Ghorayeb, who traveled from New York and St. Louis for the show.
Bassam with Wesley,
Dr. Paul, and Bruce Schweiger. Bruce was Bassam's chemistry student in 1979.

Thank you Amy for this special surprise in the sesquicentennial year of the Periodic Table.

Bassam and his daughter
and granddaughter with
Suzy and Paul Shain.
Bassam with Jamie, Jenny, and Benny Iskandar.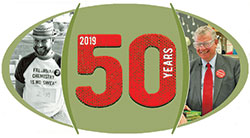 ---
~ 2018 ~
View the 12-page printed Program
Watch the 2018 program online now!
The audience waits for
the show to begin.
The UW Band helped Prof. Shakhashiri
kick off the show.

A camera from Wisconsin Public Television captures dry ice bubbling in cylinders.

Bucky Badger made an
appearance at this year's
49th annual Christmas Lecture.

Santa (played by UW-Madison Professor of Voice Paul Rowe) delighted the crowd.

Dr. Julia Nepper levitated a balloon
using a hair dryer.
Prof. Shakhashiri gifted
Prof. Mike Leckrone a brass "50"
to celebrate his 50th year as
leader of the UW Bands.

Prof. Leckrone also did an experiment: his flask is beginning to turn silver!

A beautiful violet flame.

Dr. Rodney Schreiner brought
a sample of Indium, element 49.

The Pro Arte Quartet (David Perry, Suzanne Beia, Sally Chisholm, and Parry Karp) performed to everyone's delight.

The grand finale!

A drawing shared by a 9-year-old who attended this year's show.

Photos by Eric Baillies
---
~ 2017 ~
View the 12-page printed program
Watch the 2017 program online now!
2017 Guests: Isabelle Krier, Renee Frontiera, Jim Maynard, Gery Essenmacher, Rodney Schreiner

Dr. Renee Frontiera (U of Minn.) discusses the Universal Indicator.

Now that's a hot book!

Bucky and the ammonia fountain.

Dr. Rodney Schreiner shows the audience element 48, Cadmium.

Cadmium Selenide
glows in black light!

Carbon dioxide gas extinguishes the candle flames.

High school junior Isabelle Krier shows off some beautiful,
color-changing liquids.

Isabelle played the opening segment of Tchaikovsky's Violin Concerto 3rd Movement.

Santa gives Bassam Van Gogh's Sunflowers, which was created using cadmium paints.

It was another great year!

These Daisy Girl Scouts from Argyle, led by Jody Moen, enjoyed the show.

Bassam wears one of Santa's gifts: a Science is Fun bowtie!
---
~ 2016 ~
Watch the 2016 Program Online Now!
Chemistry Prof Keeps Christmas Cheery for the 47th Time
WPT Blog
The crowd is ready for science!
Bassam and Rodney
Santa presents Bassam with a silver-plated 47 in honor of the 47th annual Christmas Lecture.
2016 Special Guests (L to R): Jim Maynard, Rodney Schreiner (Bassam) Indre Viskontas, Gery Essenmacher.
"The kids grabbed rubber bands as soon as
they got home, to experience the warmed-
when-stretched phenomenon."
~ Karl Broman, Madison
At right, a thank you holiday message from one of this year's attendees.
(Click for larger version)
---
2015


Watch the 2015 Program Online Now!

More from WPT
Behind the Scenes: Set Design with Philip Ashby
A Quick Message from Prof. Shakhashiri
News Items:
Tickets available Oct.1 for Shakhashiri's science show via UW-Madison News
Chemist starts holiday season with bangs, controlled fires via The Daily Cardinal
Around Town: After 46 years, science show still inspires awe via the Wisconsin State Journal
Bassoonists Ross Duncan
and Juliana Mesa Jaramillo
Bucky brought his own safety goggles.
The grand finale!
Brianne Kieta and Keanna Lansing of Waunakee
Gus, Hadden, Easton and Emme Steffen of Wausau
Coleton Vandervest of Mount Horeb
Rodney and Bassam with
Jeff Stobbe, who was in Bassam's class in 1979 and
has been attending the Christmas Lecture ever since.
Juliana, Rodney,
Bassam and Ross
---
2014
View the 2014 Program Booklet (pdf)
IMAGES FROM THE 2014 SHOW
At left: "Thank you for a great show!" ~ Taavi, Boden, Ramse, Kayli, Aziah and Avali
At right: A Summer 2019 visit with Avali, Boden, and Kayli
The UW Varsity Band helped welcome Professor Shakhashiri to the stage.
Bucky always comes prepared
with his safety goggles.
Fog is a science fan favorite!
Elizabeth was a special guest in the Christmas Lecture from 1992-2002.
Celebrating the 45th annual show with a glowing luminol "45."
Lecture demonstrator Jim Maynard
with Bassam.
Professor of Music and Director of Bands Mike Leckrone was another special guest.
Santa brought gifts to commemorate the 45th anniversary.
Bassam showed Prof. Leckrone and Santa how to make holiday ornaments.
The Madison Youth Choir
Raia demonstrated the Bernoulli Effect with a balloon and hair dryer.
Santa sang Italian opera!
Bassam's longtime collaborator Rodney Schreiner had fun with foams.
With a crash of thunder and a swirling tornado, Dorothy appeared!
Prof. Clint Sprott, of Wonders of Physics, came to congratulate Bassam.
Everyone came back on stage to celebrate at the end of the show.
Lillian, Jasmine and Oliver Andres, who attend Pittsville Elementary School, enjoyed the show.
The show wrapped up with more great music from the UW Varsity Band.
Photos courtesy of Curt Andres and Dina Boyle
---
2013
View the 2013 Program Booklet (pdf)
IMAGES FROM THE 2013 SHOW
| | | |
| --- | --- | --- |
| | | |
| Bassam kicks off the show by igniting some balloons, always a crowd pleaser. | Lecture demonstrator Jim Maynard performs the N2OCS2 demo in the dark. | "Let me just check the instructions for the next demonstration in this book ..." |
| | | |
| The Briggs-Rauscher Reaction features dramatic color changes. | Prof. Marc Fink and Hinano Ishii visit the lab for a musical interlude. | Dr. Rodney Schreiner has collaborated on 43 of the 44 Christmas Lectures. |
| | | |
| How did the flame leap up the stairs? | Some young science fans greet Bassam after the show. | Fr. John Silva and students from Immaculate Heart of Mary Catholic School, Monona |
---
2012
IMAGES FROM THE 2012 SHOW
| | | |
| --- | --- | --- |
| | | |
| Bassam waves hello to the audience at the start of the show. | Spraying metal salts into a flame produces beautiful colors. | Lauren Buchanan tests the conductivity of different liquids. |
| | | |
| Santa presents Bassam with a periodic table blanket from the ACS. | What a beautiful Christmas ornament! | Enjoying a round of applause after the show. |
---
2009


Still beautiful after being dipped
in liquid nitrogen. (video)

The elephant's toothpaste demonstration is always a hit.

(video)

Liquid oxygen held between
the poles of a magnet. (video)

A glowing luminol "40" in honor
of the anniversary. (video)




Santa watches the beautiful zirconium sparks.

(video)

Thank you for your interest in our programs.

For more science fun,
visit our Home Experiments page!