Marc Fink
WISL Faculty Fellow

Professor Emeritus of Music
University of Wisconsin-Madison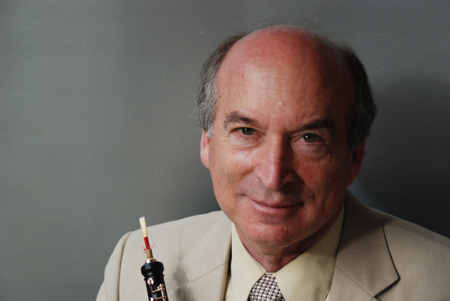 Professor Mark Fink has lent his musical expertise to the Wisconsin Initiative for Science Literacy since 2005 by participating in a variety of programs and by serving as a faculty fellow. In addition to his close association with Professor Shakhashiri, he also displays his talents as principal oboist of the Madison Symphony Orchestra. During his career, Marc has toured the North Slope of Alaska with the Arctic Chamber Orchestra, played the South Bohemian Music festival in the Czech Republic, the Colon Theatre in Buenos Aires, and was featured at the Kremlin Kazan International Festival in Russia. He has recorded with the Pro Arte Quartet, the UW Russian Folk Orchestra and the Wingra Quintet. His success as a professor is demonstrated by the fact that many of his former students are musical professionals, in both orchestral and teaching positions. Marc has served as former president of the International Double Reed Society, an organization of more than 4,000 double reed enthusiasts all over the world.
Marc and his wife Marcia have three college-aged daughters, Leah, Anna, and Eleanor, as well as 2 non-college-aged pugs, Yoda and Jimi. In his spare time, Marc enjoys tennis, golf, rooting for the Chicago Cubs and international cuisine.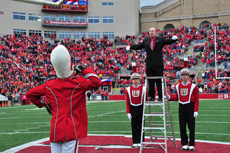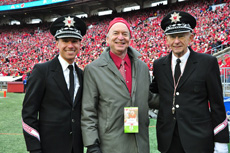 Marc lives out a dream, conducting the UW Band during a home football game at Camp Randall.
Photo credit: Gary Smith
Doug Moe: The 'hobo' opened doors for Marc Fink
The Wisconsin State Journal
Classical music: Oboist Marc Fink retires after 40 years of teaching at the University of Wisconsin-Madison
The Well-Tempered Ear